Love Life but Love Art Too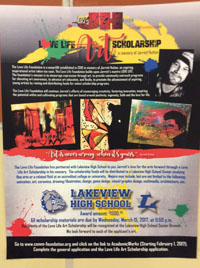 A nonprofit organization, Love Life, is originated from the loving memory of Jarrett Hutton. Hutton was an inspiring and creative artist who was taken from the world too soon.
The Love Life Foundation is built upon Huttons' signature artistic phrase "Love Life". Throughout all of his creations he has shown his love for art and the creation behind it.
Love Life Foundation is a mission that is set to encourage expression through art and the minds of the community. This foundation is providing outreach programs for the community for elevating art awareness and advancing art education. Lastly, this foundation gives young artist the opportunity  to raise and distribute funds for scholarships.
Lakeview High School has partnered with Jarret Hutton's Love Life Foundation with the intention to pay Huttons' love for art through a Love Life Scholarship opportunity. This scholarship will be distributed to a Lakeview High School graduating senior planning to study fine arts or a related field at an accredited college or university. The majors may include: animation, art, ceramics, drawing/illustration, design and game design.
All scholarship materials are due by Wednesday, March 15, 2017 at 11:59 pm. The recipients will be recognized at the Lakeview High School Senior Brunch.