Creekside Golf Dome Collapses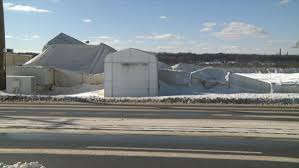 It was January 13 at around 2:30 pm when the Creekside Golf Dome finally succumbed to the heavy amount of snow piling on top of the dome. The 60,000 square-foot building received an abundant amount of snow throughout the night on Friday and  the morning on Saturday, causing the dome section of the building to collapse. No one was in the building at the time of the collapse so, fortunately, no one was injured.
Due to the caving of the dome, the golf area is off limits but the owners and staff are hoping it will be repaired and back up in 4-6 weeks. In the mean time, all golfers will have to hold off golfing for a short time, but the golf simulator is still up and running in the building and banquet area. Along with this, banquets and gatherings can still be held in the building.