Basketball Prepares During the Summer
The Lakeview's boys varsity basketball team had a very busy summer preparing for the upcoming season. The reigning district champions have lost two members, known as "missing shoes", of the team from the prior year. So now, they must re-build their team chemistry again and that starts in the summer.
Varsity head coach, Ryan Fitch said, "We had a very productive summer competing against high quality opponents, which enabled us to gain valuable game-like experience in a competitive atmosphere. Many players got the opportunity to grow as an individual player and the experiences we had allowed for the development of team chemistry as well."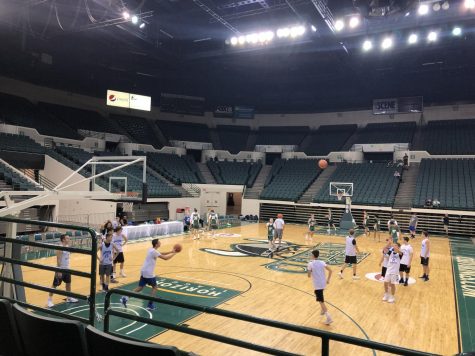 The boys have have traveled to to multiple different shoot outs and camps looking to prepare for the season during the summer. And they prepared heavily. Traveling to Penn State, YSU, and Mount Union for shootouts competing against D1 teams from Ohio, Pennsylvania, New York, and Michigan. They also stayed overnight for 3 days competing from teams from all over Ohio. And that's not all. They participated in Girard's summer league program competing against local conference teams one night a week for 4 weeks playing 6 games each night.
With losing two seniors, many underclass men stepped up to the challenge looking to replace the missing shoes.
Coach Fitch also said, " With a combination of upper and lower class men attending these sessions, everyone was able to get a glimpse of the demanding expectations of a Varsity level game. We had a great commitment by our players this summer, which will hopefully lead to another exciting and winning season."
The more experience, the better because it will allow the players to be more confident come the season. The boys basketball is eager for the season to start up and get back to competing day in and day out. The summer has prepared for the task ahead with practicing starting up within the next month.
Senior player Carter Huff, said "We have a well balanced team. We do extreme training all summer which prepares us strongly for our senior year. It will be tough trying to replace TJ and Drew but I think we will be just fine this year."
Roles are a key part when it comes to a basketball team. Everybody needs to know what their role is and what they should be doing at all times on the court. And this key aspect starts in the summer which is why Coach Fitch scheduled so much training for the players this off season. The players must come together as a team which we will take place when practices begin.