2019 Senior Top Dog: AJ McClellan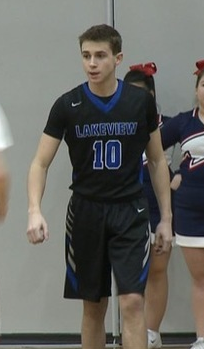 AJ McClellan, class of 2019, is known as a very respectful, hardworking young man. McClellan has been a part of the Lakeview community since he was in the 1st grade. McClellan is finishing up his senior year of studies and participating in basketball, baseball, and National Honors Society.
McClellan is very passionate about his schoolwork, maintaining a GPA of 3.8 throughout his high school career. McClellan is adored by most of the staff as he treats them with the utmost respect. He is also known to turn in very good, quality schoolwork which has earned him respect among his peers. This attitude helped paved the way for him to be inducted into the National Honor Society. This achievement is a very high standard which defines McClellan's hardworking mentality.
McClellan plans on attending Kent State in the fall of 2019, majoring in an undecided branch of engineering.
"I fell in love with Kent State as I feel it suits me the best out of all of my college options. Many of friends are also attending, which will make the transition from high school to college a lot easier for me."
Outside of the classroom, McClellan is most passionate about sports. He is a 3-year letter man in baseball, and a 2 year letter man in basketball. He is also the captain of the basketball team looking to lead a reigning district championship team further than they made it the previous year.
"With me having the captain role, I'll be looking to lead the team and improve everyone around me. We graduated 2 good seniors so we must all step up to fill those shoes as many teams look to target us."
McClellan's strong academics and good character traits are paving the way to a very bright future as a Lakeview graduate.