Bulldogs Mourn a Legend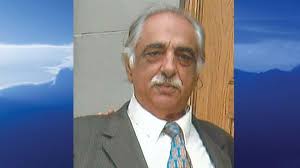 It's a sad time for the Bulldog community as we mourn a legend and a true Bulldog at heart.
Coach Ernie Grekis passed away on September 2nd, 2019, at Trumbull Memorial hospital at the age of 80.
He retired from Lakeview as a history teacher in 1996, but after retirement he went on to coach track and field for the Bulldogs for another 4 years before retiring from that in the year 2000.
Even after officially retiring roughly 19 years ago, he continued to contribute to Lakeview athletics for the remainder of his life in all sports and to all athletes regardless of skill or ability.
Assistant principal Michael Detoro said about Grekis's greatest contribution to athletics, "Without a doubt, it's the first-class track and field facility we have here on site." 
The current coach of Track and field Mark Swinning said about the impact coach had on his life saying, "Coach Grekis was my mentor as a track and field coach for 15 years and I have enormous respect for him."
Faculty at Lakeview High had lots to say about the beloved coach. Head coach for the Bulldog football team, Thomas Pavlansky, shared a favorite memory of Grekis, "The way he smiled when the 1995 cross country team finished second in the state."
On Friday, September 13, 2019, Grekis's funeral procession came to make a stop at the coach's favorite spot in all of town, Don Richards Memorial Stadium. His last wishes were that after he died he wanted to take one final lap around the track before being laid to rest.
Former cross country coach and close colleague of coach Grekis, Jason Senedak was in the funeral procession and said about the coach, "Our relationship was like that of a father figure to me the same way he was with other coaches and athletes, and I respect him so much and will miss him dearly."  
Lakeview teacher and cross country coach, Sean Voorhies, remembered a favorite quote of the coach, "I was a Greek god back in high school just let me tell you!" 
Rest in peace Coach Grekis. You will forever be remembered as our favorite Bulldog!