Lakeview New Superintendent Impressed Already!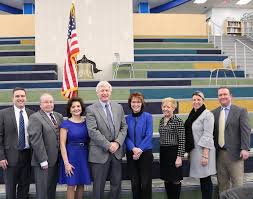 Lakeview welcomed a new superintendent for the new school year! Superintendent Jo Taylor started her new position for the 2019-2020 school year and has been loving it ever since. Although she has big shoes to fill of former superintendent Robert Wilson, she is confident she will. All throughout the years Wilson has roamed the halls making sure everyone was having the best time in school and making sure everyone was focused on their work. Similarly, Taylor says she notices some of the most impressive academics from us.
"Well there's a whole bunch of things but I think I have really been impressed with the dedication to education and that's on the student side and the teacher side of things. I see kids taking CCP courses all over the place and that just doesn't happen in other schools," Taylor said.
Overall, she thinks that Lakeview is such an impressive high school. She also knows how dedicated the district is to our extra curriculars, sports, and arts.
"We see the dedication in the marching band members on the field, the football team out there, and the arts in the plays and in the art work all around the halls. It's really a special things," Taylor added.
Although we are only a few months into the school year, Taylor is highly impressed with the way we do things at Lakeview. She is very excited to continue her career with the Bulldogs and lead us into the future.