The Bowldogs Hope To Strike Back In 2021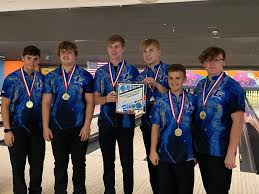 2020 has been a year unlike any other. The coronavirus has altered the way that school takes place for students, and that includes sports. 
The initial plan for winter sports this school year was to continue as usual with some extra precautionary measures taken for safety. This lead to some changes being made to the way bowling practices were conducted. 
First, all students arriving at practice must have their temperatures taken before they can join their teammates. Once practices begins, everyone must wear a mask throughout the duration of the practice which is about two hours. Although these conditions add a level of difficulty to practice, they are worth following to ensure that a season is still possible. 
Just recently though, Trumbull county put all winter sports on hold until December 22. This adds a level of confusion to whether or not a season will occur in 2021. 2nd year member of the bowling team 11th grader Landon Maderitz states that "It's very unfortunate that bowling has been pushed back to December 22 and we don't know if will be pushed back even further". Even with these conditions, the Bowldogs are hopeful they can strike back in 2021.