Football Games Look a Little Different this Year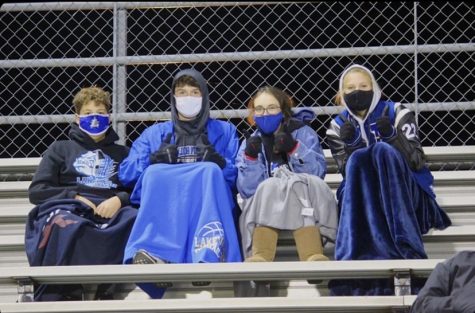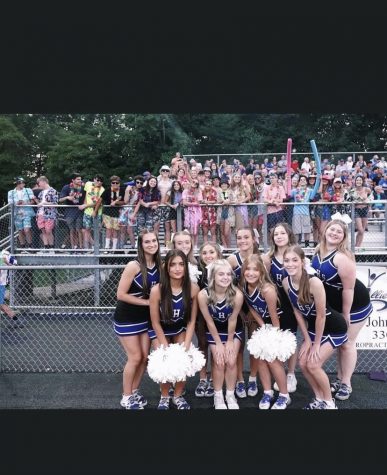 As we know, 2020 was a year full of masks, social distancing, and very quiet football games. This year, the students of Lakeview are excited as normalcy seems to be making a comeback. Although Covid-19 is still spreading and affecting many Americans every day, masks are no longer required for outside activities. This has brought many more fans, family, and friends to the football games.
Along with masks, limited tickets were a big factor in why the stands were so empty last season. Each cheerleader, band member, and football player received a maximum of 4 tickets each. This year anyone can come and purchase a ticket either online or at the gate. Not having students or even family at the games was a big change last year, and affected those participating in the game greatly.
Senior football player, Gavin Mauger states that "having a student section encourages me to play well. Last year it was really difficult because it didn't feel like there was any support or school spirit."
For the football players, not having fans, or anyone to cheer them on was hard and made it feel like they had no support. It was also tough on their parents who sometimes couldn't watch their players because of the number of tickets they received. Most families had to rotate and have different people go to different games.
Parent of Senior cheerleader Brynn Yale claims, "Since the mask mandate has been lifted for football games it's nice to see a big crowd at the games without wearing a mask in the heat. I don't think that we are going to go back to how it was."
A cheerleader's role is to keep the spirit of the crowd alive despite the outcome of the game. The only way a cheerleader can do their job is if they have people willing to root for their school as well. Without a student section, it was very hard to have the motivation and be excited to cheer on their football team.
Junior cheerleader Makayla Strauss, explains that "Being a majorette is all about performing and having fun. Without a crowd, this was almost impossible last year. I am so excited and am going to make the most out of this year."
Many students were upset and disappointed that they couldn't make it to the Friday night football games, which have been a very distinct part of high school since anyone can remember. They were lucky if they could snag a ticket off of someone with any extra, but that was very uncommon.
Senior classmate Jaycob Whitmore expresses, "I was a little bit upset with the fact that I wasn't able to see the Bulldogs play. I always used to look forward to cheering in the student section with my classmates."
This year we are hoping to make it the best season yet. When there are no masks, and no limits on tickets there should be no reason why the whole school doesn't show up and shout out for the team and make up for the very abnormal year 2020 was. We as a school are looking forward to seeing everyone this Friday, September 3, 2021 under the Friday Night Lights. Kickoff is at 7 PM.