2022 Top Dog: Dante Warner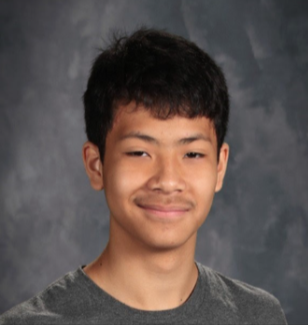 Lakeview High School senior, Dante Warner has proved himself in being a "Top Dog" in his class. Warner has been attending the Lakeview school district since kindergarten. Warner is a very liked individual amongst his classmates, and many will remember him for years following high school. 
Warner has a very outgoing personality which all of his classmates grew to love. He is always there to brighten someone's day, and you can always count on him to make you laugh. Warner gives Lakeview a lot of credit for shaping his personality. He explains, "My friends are very funny people, so we all just pick up different things from each other's personality." Warner also believes that Lakeview has helped him get out of his comfort zone, and have the ability to be very social. 
Warner explains that Lakeview has actually helped his social life a lot. When asked, he explained "I used to be a pretty shy kid, but as I got older my peers helped me become more and more outgoing."
Long time friend of Dante, Glenn Tolliver, has nothing but good things to say about Warner. "Dante has proved to be a really good friend of mine. He is very trustworthy, and always fun to talk to. I am going to miss my king after high school."
Warner was given the honor of being the 2022 prom king, as Tolliver hints at here. Along with prom king, Warner was given a Senior Superlative for "Most Likely to Never Grow Up," and "Class Clown."
When Warner was asked about what he will never forget about Lakeview, he struggled to narrow it down to one thing. He finally decided that he will "never forget having the ability to play video games with my classmates during study hall."
Warner has so many great memories with a variety of people, but his favorite will always be doing his classes online Junior year. Warner states that "online school was fun, and I got very good at pretending to pay attention."
Another close friend of Warner, Tyler Doran, has many great memories with him. "I have so many amazing memories with Dante, but my favorite has to be when he farted so loud that a substitute teacher kicked him out of class."
Warner has created so many great bonds with his classmates, so the memories that include him are near unending. He always goes to school with such an amazing attitude, and it is contagious. Warner constantly lightens the mood, and is always making everyone's day better. It would be very rare if someone did not have a good memory that included Warner. 
When asked about Warner, senior Landon Maderitz agreed, "Dante is constantly making everyone's day better, he's such a fun person to be around."
Senior year is winding down, which means the time at Lakeview is coming to an end, but he has a bright future ahead of him. He excelled in school, and will be attending college at Kent State University. He intends on studying Business Administration.
We all wish Warner the best of luck in his future endeavors and we all hope he finds great success in life.