Chromebooks take over Lakeview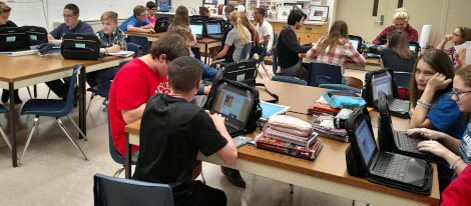 This year in the Lakeview School District, two classes received a new wave of technology. The sixth and eighth grade classes were given their very own chromebooks. While walking through the hallways of the high school, the eighth graders can be spotted with their black cases holding these new chromebooks. This summer, after contributing a thirty-five dollar insurance fee, the students were presented with this piece of technology. In the high school, social studies teacher, Jason Senedak, is the person in charge of maintaining the chromebooks. Senedak uses a part of his day to repair damages, troubleshoot problems, "provide teacher support for using new technology in the classroom and researching ways to best use technology in the classroom." While the new program has only been tested in the classes of Lakeview High School for a couple of weeks, there have only been minor problems. Trouble connecting to Wi-Fi, the chromebook being unable to charge, and one broken screen have been the biggest challenges faced.

Technology is a constantly growing field in our society. More projects are done on computers, teachers deliver information to students through Google classroom, and the three buildings that make up the Lakeview School District are all connected through the power of Drund. If you were to look in the classrooms of Lakeview High School, almost every classroom contains a smart board. Education is constantly incorporating new aspects of technology into its lesson plans. The chromebooks are Lakeview's latest example of incorporating technology into the classroom. Senedak believes that, "computer literacy is a vital part of student learning throughout the twenty-first century. [This program] will help students take a more active role in learning and it will allow teachers to reach more student abilities with new types of strategies for learning." A lot of this technology is new to both teachers and students, but in the end it has the possibility to improve the quality of both teaching and learning.