2023 Top Dog: Ethan Baker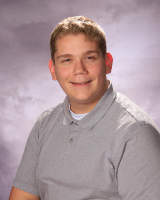 Meet Lakeview's next top dog, Ethan Baker. Baker has attended the Lakeview Local School District since Kindergarten, strongly supporting and being a part of the Bulldog pride. Baker says that the reasoning for him being such a proud Bulldog "is the faculty that make up Lakeview Local Schools." As he has "learned a lesson from each teacher here that I had and will help me for my future plans." With many years in the district, Baker's favorite year has been his senior year. Senior year has been his favorite with so many fun things for the seniors to do, as well as our class becoming together and becoming a community as we enjoy our last year all together and make memories that will last us a lifetime as we look back on high school one day.
When looking back at the great and supporting faculty Baker has experienced, he can proudly say that the teacher who had the biggest impact on his life was Mrs. E. Wilson, as Baker says "she encouraged me to learn English and taught it in a fun and meaningful way.  She taught me that I am me, and no one else can change that, and if I keep holding on great things will come, and sure enough she was right."
Baker has been a very common face seen by the Lakeview community and schools with his involvement and optimistic attitude he always carried through the Bulldog hallways. For extracurricular activities, Baker played Tennis, and was involved in Jazz band, Tri-M Music Honors Society, Symphonic band, Marching band, Madrigals, Pop Acapella, and Drama Club. 
With his high involvement in the schools, Baker had to work very hard to overcome the overwhelming feeling he felt trying to balance all of the activities he was passionate about and took interest in. In high school, Baker had to learn to balance tennis, band, choir, and drama as well as maintaining and prioritizing his school work and academics. 
Looking back on his involvement, that came with hard work, stress, long nights, and continually being overwhelmed Baker can happily say that his involvement was all worth it and that he does not regret a thing. Undoubtedly, Baker is most proud of everything he has been involved in within the last four years. With his participation in so many activities and groups, what kept him working hard and doing his best was himself. Baker says that "myself kept me working hard and doing my best, because I never give up on anything that I do." His biggest strength was fitting in where he wanted to, and finding new interests, groups, and love for his passions within the school.
With all of his involvement and participation in extracurricular activities, he feels that the love he has for all of his activities he participates in and the passion he has for all of them has shaped who he is, as well as impacting the decisions about his future. Baker says "band has influenced me because it taught me how to be a leader and help those who need it. Taught me how to be a part of a family. Drama taught me how to be outgoing, energetic, myself, and comfortable to talk in front of people. Choir helped me discover I have a decent singing voice, and if I combine that with my acting skills, I can use that to Major in theater and possibly be a director at a school one day. All of this has helped me realize that I can help kids and prepare them for a future beyond high school."
Throughout his high school years, Baker's favorite class was Madrigals. His reasoning for this was because "I can sing with emotion and get into the song. That class helps me forget everything bad that is happening and brings me so much positivity and energy." 
One of his favorite Lakeview experiences and a forever memory he will never forget was his senior year of high school being crowned Homecoming King. This moment was not only meaningful to Baker himself, but also his classmates and friends as they proudly cheered for his crowning. Along with him becoming Homecoming King, he feels that homecoming was the best event throughout high school. 
Becoming crowned homecoming king was a very monumental and meaningful event to Baker. To Baker, it was more than just becoming homecoming king and instead a factor into helping him overcome a big obstacle in his life that would for sure make his younger self proud. Baker says that "the biggest obstacle I have overcome in my life was being made fun of in middle school non stop and getting severely bullied. But I overcame all that and used that to shape who I am today, and now I have became homecoming king, and I am well liked throughout the district."
Baker feels that he undoubtedly has changed throughout his years in high school as he says "when I first started high school I was shy, and not really out there. And now I was in 1 musical, 2 plays in front of many people, I sing in front of people, and I have band concerts. All of these things have helped me become who I am, and helped me change drastically."
 As Baker's chapter of high school approaches it's closing, one thing he wishes to change about it is that he wishes he broke out of his shell earlier as well as gaining more confidence in his early years of high school and as in retrospect he would tell his freshman self " to hang in there and things will get better. Everything you do now will shape you into who you will be, so keep moving forward. Things will break you down, just keep getting up."
For younger students, Baker's advice is to  "'love people and dare to be great'. Make friends with everyone, do everything and see what you like to do and what your good at, and stick with those things as long as possible."
Along with advice, the biggest life lesson he learned in high school "is to be yourself and don't be someone you're not. If you are yourself, you will have people come to you who want to be your friend, and you will realize what you should be involved in. The key is be patient, and let life take its course and see where you fly."
As senior year winds down, Baker looks back and says "my senior year has not played out as planned. I did not expect to get homecoming king, I did not expect to have two school plays, and I did not expect that it would be over that fast." But with these unexpected events, it gave him many memories.
Baker confidently says that Lakeview has prepared him for his future. Baker says "I think Lakeview has prepared me for the next chapter of life by communicating to people and being able to be myself. I was involved in so much at Lakeview, but everything I was involved in has helped me grow into who I am today!" With all of his memorable experiences at Lakeview, Baker will miss "the family feel that our class has shown throughout the years, and everything I was involved in"  along with "missing the people who are in charge of all of the extracurriculars that I am in. I will miss Mr. Sensabaugh, Mrs. Mullins, Mr. Purdum, and Mr. Terbovich. Each and every one of these people."
With the upcoming future, Baker has applied and been accepted into Kent State University, the University of Mount Union, and the University of Akron.
Upon graduation, Baker has decided to attend the University of Mount Union where he will move to Alliance, Ohio to attend. At the University of Mount Union, Baker will be majoring in Education, as well as majoring in Theater arts, and a minor in coaching to fulfill and reach his goals of becoming an English teacher at a high school, a theater director, and a tennis coach. In five years, Baker sees himself thriving as an English teacher and a theater director, and as a tennis coach. 
With upcoming graduation, Baker will definitely be missed by the Bulldogs. Baker throughout his high school years always possessed optimism and humor that could always bring joy to his fellow classmates, staff, and friends. Baker's passion, hard work, and efforts towards Lakeview never went unnoticed as he always made the community proud. Baker is a great example of a proud Bulldog, with his support and involvement in everything he did. With his eventful future, the Bulldogs wish you the best of luck as you work towards accomplishing your future dreams at the University of Mount Union!