Axel Barrels Through to the Competition While Medici Displays Lakeview Art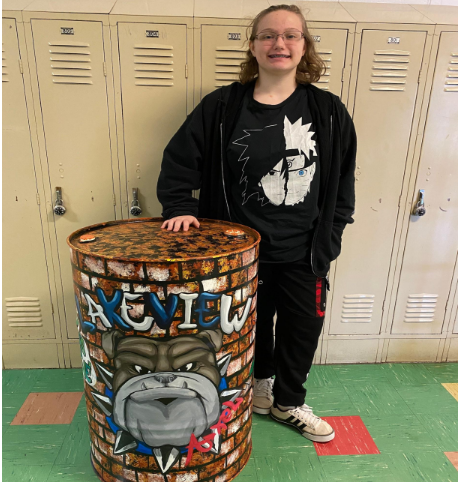 Lakeview art students have not yet put away their painting, drawing, or sculpting tools.
Sophomore Axel Pistilli recently participated in painting the barrel that will eventually be displayed and used at the Trumbull County Fairgrounds. Axel has a very artistic mindset and was able to use that during this activity. The barrel is on display in the lobby of Lakeview high school until it is moved to the fairgrounds.
Axel explained the vision for the barrel, "I got involved by volunteering to paint the barrel. We wanted to incorporate different kids' artwork from the project we were doing in class at the time, but were unable to due to the stencils falling apart after use. So we decided to go with Lakeview themed art. We started with the Bulldog on the front. And after that we added 'Lakeview' arching over the Bulldog. The goal was to make the letters look like graffiti letters. Then we started on the other art. With the Medusa themed Bored Ape, the design I created, I took inspiration from the Greek Goddess Medusa."
Even though there were some setbacks during this project, Axel still persevered. With help from Lakeview art teacher Jeff Piper, the talented sophomore was able to help push through and complete the in plenty of time to allow for display at Lakeview.  Other students also helped contribute to the barrel and Axel was very thankful for them.
Pistilli says, "We put two students' stencils on the Barrel as well. When running out of ideas to put on the barrel I started to just freehand draw things on, which is how the melting eyes were painted onto the barrel. Mr. Piper helped as well making the stencils for Lady Liberty and the rat holding up the Lakeview L."
Due to the difficulty of this project it took a long time to finish. Axel worked very hard during free time and during school hours, and this effort and determination showed by the end.
Pistilli says, "This barrel took a long time to finish. I would come in almost every day during my third period study hall for weeks while also working on it in class. I worked on the barrel in the art room. I would like to add a thanks to Mr. Piper. Without his guidance and opinion I would have been at complete loss on what to do in this project."
After the school year is over the barrel will head over to the Trumbull county fairgrounds to enter into a competition. Good luck at the competition, Axel! All of Lakeview will be looking for your barrel during this summer's Trumbull County Fair. 
Other artistic Bulldogs were busy at work while representing Lakeview at the TCESC Art Exhibit at the Medici Art Museum. Many students participated in this exhibit including freshman Rachel Clark, sophomore McKenna Bartram, and seniors Faith Biggs, Cierra Davis, and Lauren Niemi. 
Everyone entered their own pieces of artwork at the exhibit. The hard work and talent shined through. Rachel Clark won honorable mention with her project and received a ribbon.
Clark says, "The artwork I had on display at the Medici Art Museum was a ceramic hippo. The hippo was round and grey with a pink mouth and pointy teeth. I chose this design for our piggy bank assignment, and It was designed to have a round slot for money in the mouth. I wanted to try something outside of the box for my piggy bank project, and I knew that I didn't want the coin slot to be where it normally was on a piggy bank. That inspired me to make the hippo, because they have a wide jaw so it would be easy to put the coins there."
Davis says, "My inspiration for creating this piece of art was from the artist Hirohiko Araki. In Art 2 class we had to find an artist that inspires us and make a piece of art inspired by them. My inspiration was also from the colors in the referenced photos I found. I realized they worked really well together."
Biggs added, "The artwork I had displayed was a photograph. The photograph entails me laying on the ground with an array of fall-colored flowers enveloping my hair, the photo was taken so that you could only see part of my face and the entirety of my hair. The inspiration behind this piece was created by observing so many photographers and realizing that they never take self-portraits, so I decided to take the risk and do something different. No, I did not win an award, but the art show was still fun and enjoyable nonetheless."
Bartram said, "I entered a print piece into the exhibit. I really enjoyed the new Wednesday series based off the Addams family so that's what inspired my work. I won an award, I don't remember what it was called."
Niemi described her entry into this final art show of her high school years, "For the Medici Art museum I created a 3D collage of a tree: using paper, sealant, acrylic paint, and permanent marker. This tree of course was covered head to foot in golf ball to orange sized growths. Personally I am calling it "The Alien Tree", for in my opinion there is something spooky and almost extraterrestrial about it like a scene from a classic alien movie such as ET. Sadly I did not when a award, but that is ok."
All the artists did an amazing job at the exhibit and submitted such beautiful artwork. Great job, Bulldog Artists!